Top 5 New StrategicERP HR Software Features
Category : ERP
Blog posted by : Admin / 28 Dec, 2022
Managing human resources is a complex process that involves all tasks related to the lifecycle of an employee within the organization. Organizations world over are implementing new HR software features to increase productivity and efficiency.
The goal of a Human resource Management System (HRMS) is to produce happier and more effective teams by automating the following workflows:
Recruitment and training
Engagement and rewards
Communication and collaboration
Performance management
Leave and attendance calculation
Salary and incentives calculation
Talent retention
Exit process management
Employee document management
Is your Workplace Future-Ready?
Human Resource Management Systems are continually upgrading to match the evolving needs of organizations. Based on the feedback from clients and the market demand, StrategicERP has upgraded its Human Resource software to add 5 new features.
StrategicERP's Latest HR Software Upgrades
Current: New features
1. Team availability chart
2. Attendance summary
3. HR chat bot in ESS
Bonus: Currently available
5. GPS Tracking
Upcoming: Future upgrades
6. Income tax comparison old regime vs new
7. HR leave calendar
Features of the Modern HR Software
The cloud-based platform streamlines an entire gamut of HR tasks needed to keep employees happy and productive while meeting the operational and real-time information access needs across all levels of management.
1. Team Availability Chart
Collaborate easily and more effectively when you can instantly check whether a team member is available for the day or not.
StrategicERP Team Availability Chart
ERP systems are known for the high visibility they provide into processes and teams. Keeping this in mind, one of the new StrategicERP HR software features added was the Team Availability Chart.
It provides managers and users with real-time information about their team's attendance schedules. With it, they can view their team's login/ logout times, work hours and attendance including holidays and other absences.
As the HRMS allows employees to punch in daily attendance from anywhere, irrespective of their location, it becomes easy to check the availability of a team member, including field staff and remote workers. Employees can register their attendance using biometrics, face ID, web login or the HRMS app.
2. Attendance Summary
A visually represented Attendance Summary report provides instant information to the human resource department to help with quick decision-making.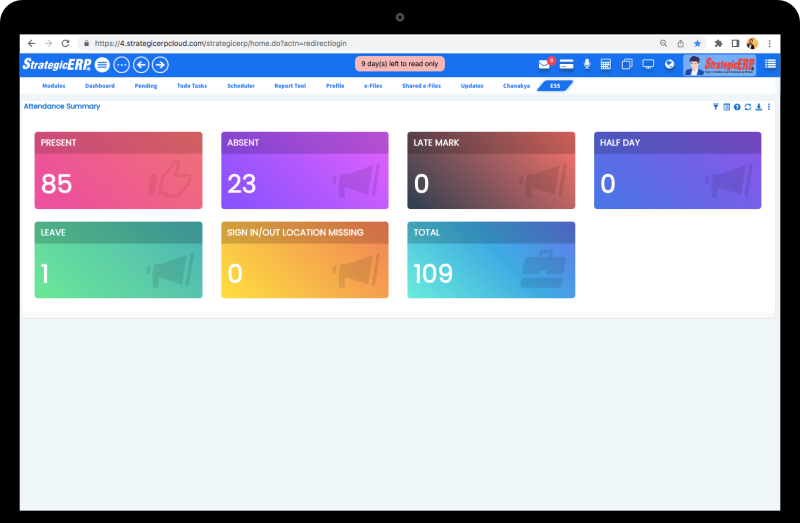 StrategicERP Attendance Summary Dashboard
To facilitate easy communication between employees and the human resources team, the Attendance Summary report displays an overview of the attendance status of an employee. It helps manage employee-wise attendance and leave data, ensuring compliance with laws, regulations and company policies. For instance, the geo-tagging feature does not permit the staff to sign in if they are outside the limits of their pre-set location radius.
The graphical attendance interface summarizes data for attendance, leave, late mark, half day, and missing location on one screen. With a single glance, users can figure out that an employee has neither been punctual nor been adhering to the company's rules.
Irrespective of location, the summary is available for field staff and remote workers as well. The new HR software processes workforce data on a centralized platform. It enhances accessibility of actionable data insights, which help track and monitor workforce attendance for businesses of all sizes.
As attendance taking is necessary for salary and other calculations, manually managing it occupies a lot of the HR personnel, especially for a large workforce. The latest HR software helps process large volumes of employee attendance data, freeing up the team's time that can be dedicated to core department tasks, thereby reducing administrative costs.
The increase in transparency and the reduction in the time taken to manage attendance is noticeable soon after implementation. The timekeeping and attendance automation aids in eliminating unpredictability and delays, leading to accurate salary calculation along with incentives, compensation, overtime and more.
The absence of our latest HR software may lead to time-consuming resolutions to employee queries about attendance, repetition of manual work, error-prone data, and difficulties in enforcing company policies.
3. HR ESS Chatbot
StrategicERP's proprietary Artificial Intelligence- driven virtual assistant independently auto-resolves common HR queries generated by employees.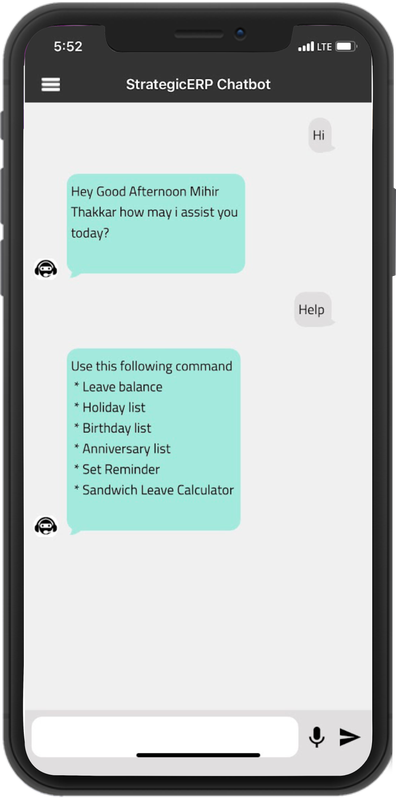 StrategicERP HR Chatbot Examples
The smart HR chatbot that enhances employee engagement is powered by StrategicERP's proprietary AI, Chanakya. The intelligent bot mimics an HR executive's conversation to answer queries about attendance and salary calculation, holiday list, birthday list, setting reminders and more.
An organization's workforce often approaches the human resources team with many queries that require time, effort and data to be answered. Companies can reduce the administrative burden by making an employee's data available to them readily.
Any latest HR software with Employee Self-Service (ESS) can save the human resources team's time by making specific employee data readily available but only a dynamic system can respond to employee queries without any human intervention. HR AI chatbot-led instant resolution of queries leads to higher employee satisfaction by granting more control to their staff over their personal data.
Bonus features of Modern HR Software
Even though the list for HRMS latest update ends here, we have added two more features to the list. Though they are not new StrategicERP features, we think they are driving our software technologically forward and leading to more ERP adoption.
4. GPS Tracking
GPS tracking helps monitor and manage organizational assets, including field staff, remote workers, company's fleet and equipment.
With organizations going global, keeping an account of how far your team is spread geographically helps with collaboration and management. StrategicERP's GPS Tracking mobile app helps track devices in addition to vehicles or equipment fitted with trackers. The device IDs can be managed within the HR software and users can start or stop tracking anytime. Managers can access tracking history and parameters such as time interval, distance, and date ranges.
5. Voice Commands
StrategicERP's voice commands allow for hands-free and easy navigation of its business automation software platform, while the HR voice assistant allows hand-free navigation of the ESS mobile app.
Some of StrategicERP's proprietary AI, Chanakya-powered in-built voice commands allow users to sign in, show pending tasks, know about the company, open modules, go to help, set reminders, check leave balance and log out.
The HR voice assistant answers queries about leave balance, salary slips, upcoming birthdays and anniversaries and more.
Upcoming features of Modern HR Software
Here, the HRMS latest update continues with two new features that will soon be available on the latest StrategicERP software. They are not only worth a mention in this blog but also worth the wait!
6. Income Tax Comparison Old Regime vs New
The Income Tax Comparison Old Regime vs New is generated on the ERP software to provide more visibility and clarity, aiding in picking the most advantageous regime.
As the rates for the income tax slab system change, taxpayers need to figure out the best way to pay their taxes. Both regimes have their advantages and disadvantages and a comparative assessment can help decide the most suitable one.
7. HR leave calendar
StrategicERP's upcoming leave calendar is a multi-faceted feature that streamlines leave management for human resources teams.
It helps track different types of leaves, check status of leave application, use project/ department/ employee name filters, add due dates, check pending tasks before approving leave, review performance, avoid leave clashes within a team and also integrates with third-parties.
Overcome human resources management challenges with new HR software features. The scope for process automation in HR is vast, which is most commonly one of the first departments to lead transformation through Artificial Intelligence.
---