Manage Your Human Resources To Transform The
Work Culture
Products
Other ERP
HCM- HRMS
HCM- HRMS
In order to effectively manage the human capital, the company needs to analyse the performance of each and every employee to achieve the organization goals and improve the performance of all the employees.
StrategicERP's Human Capital Management Software is the form of HCM software that combines, regulates, and streamlines the number of human resource functions such as storing employee's data, managing payroll, recruiting processes, training to employees, analyzing performance, and keeping track of attendance records.
StrategicERP has designed SaaS and cloud-based HCM software that manages all your HCM requirements like HR and Payroll (Hiring, Onboarding, Administration, HR Planning, Leave Management, Payroll Processing), ERP Admin (Permission Setting, User Creation, Mail Setting, SMS Setting), financial management (Master, tally, transactions, MIS Reports etc.),statutory Management( calculation, payments, returns etc.)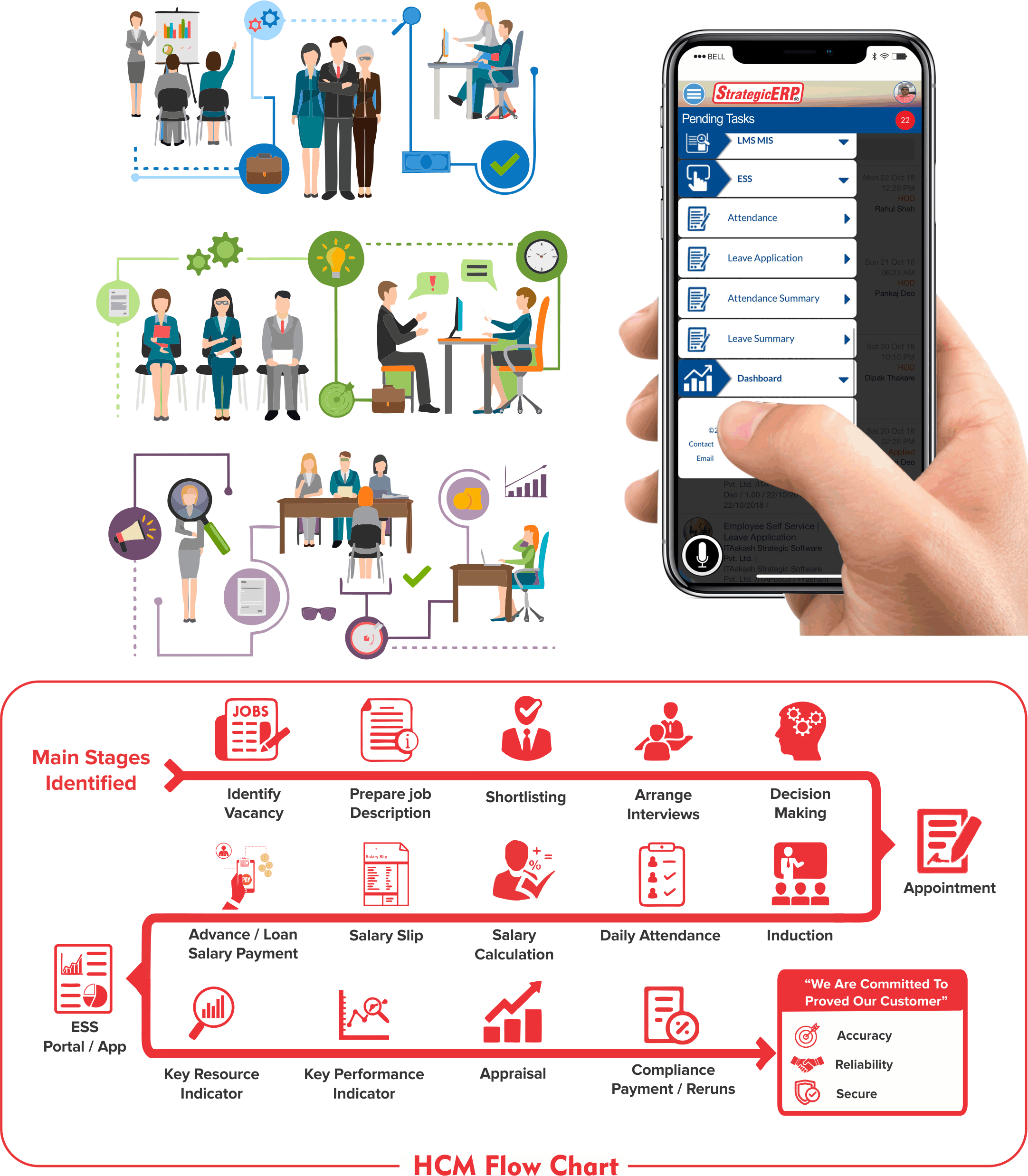 ---
This is a recruitment cycle for any company.
Job opening to appointment of employee.
Joining formalities with induction training.
Personal Information .
Banking Detail.
Identification Data
Facility for submission of leave application.
Recording of daily attendance.
Information about allowances and IT declaration.
Defining of employee compliances.
Deduction and submission of compliances.
Tax deduction at source for professionals/consultants.
Form 16/income statement.
Salary certificate.
Post employment documentation/releasing formalities.
Defining of salary structure.
Calculating of daily attendance.
Calculating of salary and perk.
Core Features of HCM Software
Payroll module is designed to automate the processing of the attendance information of employees and automatic calculation of salary of employees.
Set up a job structure for filled and vacant positions and construct the hiring process in an organised manner.
Store and access personal details of employees and assign tasks to employees as per the experience and qualification.
Manage leaves history of employees effectively and keep the records of various allowances given to employees.
Automate the calculation of professional taxes and keep the track over the provident fund, ESIC, and TDS.
Maintain the record of Form 16 and salary certificate and recoding and maintaining of relieving letter and ESS report.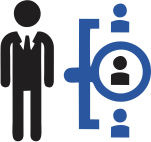 Benefits of HCM
Automate the time-consuming tasks and focus on productive tasks with the help of HCM Solutions
Manage statutory compliance effectively.
Accurate track of employee's information over the user-friendly dashboard.
Detailed performance analysis of employees with vide visibility.
HCM Software helps in identifying the job requirement for a particular position.
User permission management according to hierarchy.
HCM is able to track benefits being availed by employees and how they profit from them.

Steps For HCMimplementation
Sharing of import templates for gathering data to map in HCM
Installation & configuration of HCM product
Creation of user permission matrix in HCM
Training session on all HCM modules
Migration of data in HCM
Project Go Live documentation (System in END user's hand)
HCM system reports approval & closing of project.
Download Brochure / PPT
Enquiry Form