Infrastrctre ERP Medium
In today's economic era, the infrastructure and architectural advancements depend on well-planned construction facility. Such exclusive industry holds the higher demand in the nation. Therefore the infrastructure industry faces challenges with regards to business process management. StrategicERP has launched the effective infrastructure ERP software i.e. Infrastructure ERP Medium V.22.1 which focuses on easing complex business process functionalities such as clients management, project budgeting & planning, site management, financial recording etc.
Infrastructure ERP Medium is a start to end solution for all infrastructure developers which transform the management of project lifecycle and make it easy for developers to work friendly with ERP technology.
Modules
ERP Admin
Creates Master setup for companies.
Creates users and manage password.
Defines statutory setup for companies.
Clients Management
Manage all your project clients, contracts, mobilization amount, Measurement, RA bill and revenue.
Generate revenue, simplify your client RA Bill, improve your cash flow, and measure the performance and profitability of your contract projects.
Manage and Create RA Bill from detail measurement (JMR) with retention, WCT, Service tax etc
Generate reports such as Proposed Bar Chart, RA Bills, Receivables etc.
Project Engineering
Plan and control all WBS, Budgets, Progress and Costing Information.
Enable visibility into project budgets and forecasts to determine overall Financial health.
Generate real time and accurate reports such as Bar Chart, Progress and Project Costing.
Sites Management
Stock Ledger Management; both GRN and GIN
Generation of reports for stocks and pending PR and PO.
Segment wise store creation; in terms of material, site, and company.
Purchase Management
Supports the requisition of goods, comparison, and purchase order creation.
Purchase orders can be sent to suppliers using email.
It gives you quick ROI by helping you to efficiently manage your day-to-day purchasing and gain control over your spending.
Contractors Management
Management of contracts those we want to give to sub contractors.
Service Request, Work Order and Service Bill and many more are the stages of contracts management.
Manage Labor, Equipment with Contract Management
HR and Payroll
Liaison contacts fall under master
It can obtain liaison bar chart and process tracking report.
It can review and attach sanctions on properties or land if there is any.
Administration Billing
Manages all Requisitions, Purchase Orders, Goods Receiving, Goods Issuing and Bills etc.
Manages all Service Order (W.O.), Service Receiving against Service Order and Bills etc.
Generates reports such as Stock Report, Purchase Register and Service Register etc.
Financial Management
Automates tax compliances posting like TDS, service tax and VAT etc.
Integration with TALLY and Oracle Financials as and when required.
Comprehensive financial report based on defined cost centre.
Detailed fund flow statement; projected and actual.
Statutory Management
Generates all the tax related reports including VAT, TDS and IT.
Handles multiple budget code
Integration with budget code.
To-Do Task Management
Create and organize tasks, Assign task, and optimize productivity.
Get Notified when task assigned by others.
Your tasks are always where you need them- on your phone, table and web browser.
Features
Project budgeting and planning estimate all the cost of your task or activity, plan accordingly and schedule them.
Contracts Management manages contracts of those we want to give to subcontractors.
HCM manages all the key data of employees
DPR, LOG Book, Hire Work Order, Movement from one site to another, Rent Bill and many More.
Legal Management manages the budget and payments of all the legal work orders.
Administration creates general work orders and purchase orders for localized purchases.
Audit and Assessment can generate different reports like TDS certificate, tax audit and service taxes.
Asset Management manages your assets so you can meet corporate performance goals.
Finance and Accounting automate tax compliances posting like TDS, service tax and VAT etc.
With Project Billing experience, the power to simplify client invoicing.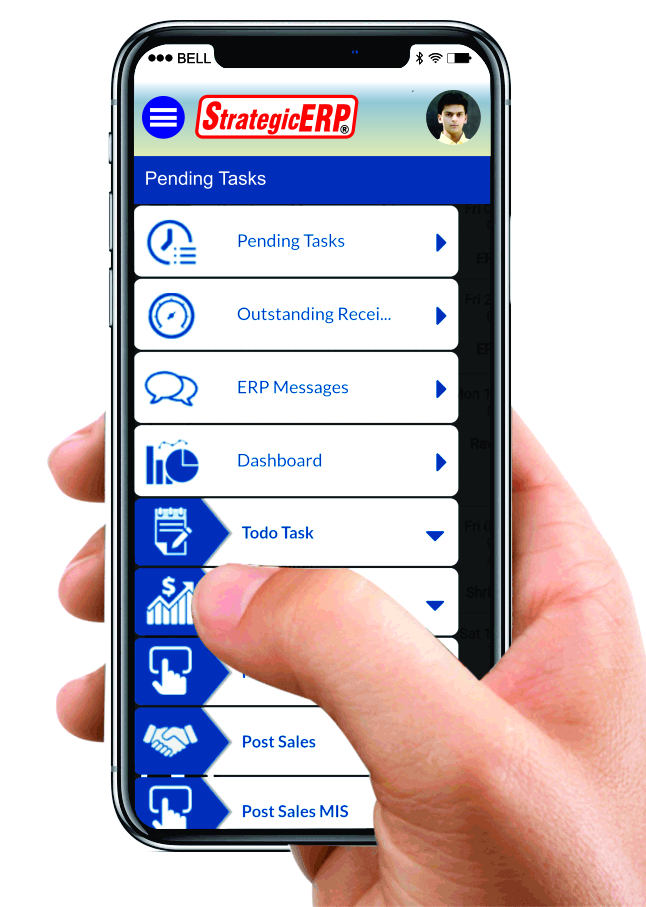 Advantages
Infrastructure ERP Software scrutinized, plan, and manages every aspect of your business
Sourcing of quality materials and timely execution of tasks
ERP for Infrastructure maintains timely schedules and quality increasing your profitability.
Expensive assets are efficiently managed throughout their lifecycle
Manage the pricing of services effectively and stay ahead of the competition
ERP for Infrastructure manage Payable & Receivables through progress payments or project billing.
Plan ahead, manage and deliver desired results on time.
Implement proper maintenance routines to improve the worth of your expensive assets.
Flowchart INFRASTRUCTURE (BASIC)