Streamline Your Complex Business Process And Transform
Your Business Environment
Products
Real Estate ERP
Real Estate Medium
Real Estate Medium : The Most Powerful Real Estate ERP Software For Your Project Completion.
StrategicERP for Real Estate is its flagship product running successfully across various clients in the Real Estate sector. It is a sophisticated, robust accounting and operation management ERP Software for Real Estate businesses. With StrategicERP system, you can create a perfect lasting fit for your business by implementing only the modules you need today and subsequently building your financial and operational system strong over time as you grow by adding more than 20 modules.
Real Estate ERP Medium is a form of Real Estate ERP Software which is designed and developed for easing the most complex business process in the Real Estate Business at a standard scale. Real Estate ERP Medium is one of the best Real Estate ERP software that focuses on aligning the actual project activities performed with planned project activities. The best ERP for Real Estate enables Real Estate developers to finish the project within the scheduled timeline and estimated resources with compliance to statutory requirements.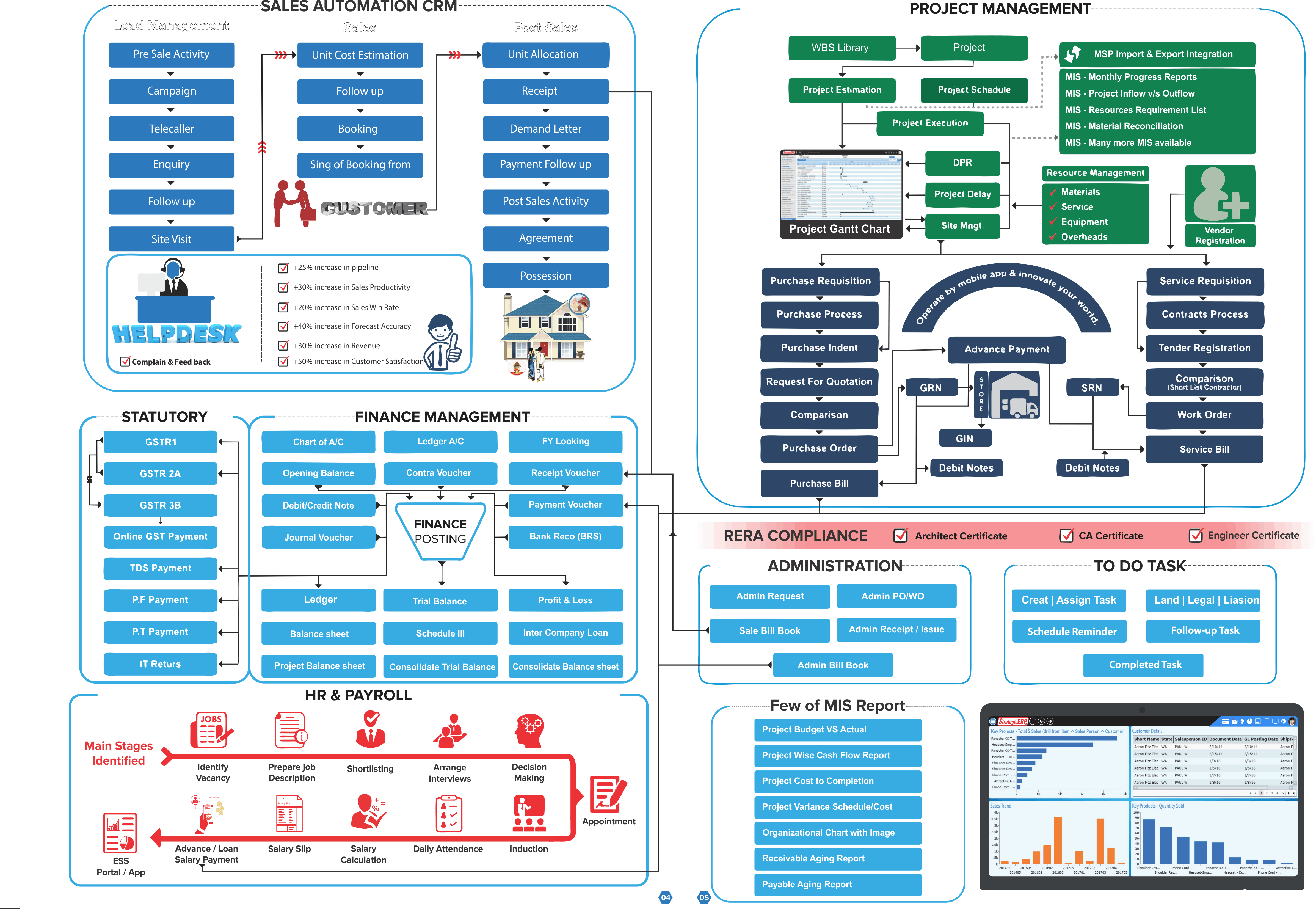 Automates tax compliances posting like TDS, service tax and VAT etc.
Integration with TALLY and Oracle Financials as and when required.
Comprehensive financial report based on defined cost centre.
Detailed fund flow statement; projected and actual.
Auto voucher creation process; from draft to submission to approval.
Audit functionality for the verification of vouchers and challans.
Hassle free calculation, payments and return filling of taxes.
Automation submission of statutory data to Financial and Purchase Management modules as per relevance.
Generates all the tax related reports for both employees and employer.
The module maintains all taxation records for both employees and employer.
Preparation and submission of periodical statutory reports.
Reports on enquiries and follow-ups.
IVR integration and details about unit status.
Sales stock maintenance and Sales Target.
Budget forecasting and creation of marketing plans.
Graphical view of inquiry funnel, marketing sources expenses vs achievement.
Capability to maintain the changes in FSI and TDR plan.
Data relevant to Project Engineering and Financial Management would be submitted in respective heads.
Details about projects, brokerage payment schedule and receipts against the schedule.
Creation of booking forms, payment schedule and receipts against the schedule.
Advance interest calculation and calculation of adjustments.
Graphical view of inquiry funnel, marketing sources expenses vs achievement.
It is integrated with accounting, architecture, sales and other relevant modules.
Estimation of project cost and construction as per the drawing plans.
Daily, weekly and monthly progress report.
Estimated and actual cost variance of each project and materials used.
Integrated project bar chart schedule snap and delays, if any.
>Rate and quantity analysis of a new project in comparison with an existing one.
>It allows setting milestones and resource allocation for each activity.
>Monitoring of each activity milestone based on defined timeline.
>Defines and manages critical and noncritical paths.
>Project bar chart data can be imported from Microsoft project and excel format.
>Manages overlap of all the activities.
Stock ledger management; both GRN and GIN
Generation of reports for stocks and pending PR and PO.
Segment wise store creation; in terms of material, site and company etc.
Helps to create and manage contractor wise Measure sheet and Abstract sheet.
It provides details of project completion with regards to station activity.
>Activity wise material received and issued.
Tendering and registration of contractors.
Issuance of service request and generation of running bills.
Creation of contractors ledger and service register.
Vacancy and candidate details information.
Salary disbursement report and their department wise salary.
Creation of profiles and roles for employees.
>Manages all the key data of employees including PAN, address and insurance details.
>Fully integrated into payroll module with e-pay slip facility. It is automatically linked to inbox of employee and feeds into history.
Administrative setting, user roles and rights management.
Status of mail or SMS sent or received.
It creates general work orders and purchase orders for localized purchases.
Can generate different reports like TDS certificate, tax audit and service taxes.
Can generate reports for IT assessment.
Audit functionality for auditors involves the selection of vouchers for verification.
>Reduce risk by enforcing consistent and harmonized processes and procedures across the organization.
>Generate reports such as Stock Report, Purchase Register and Service Register etc.
Details about task sender and receiver and task list report.
Task assigned through group master.
Manages task updates and auto escalation of all pending tasks.
Purchase data relevant to different modules automatically submitted to the respective heads, e.g. purchase requisition would go to Engineering Management module as well as advance payment would go to Financial Management.
Retrieves reports for bill wise payment.
Generates comparative analytical report for purchase requisition and purchase order.
>RFQ/RFI management with pricing information of various materials.
>Managing and tracking suppliers by value, quality and defect rates.
FEATURES & ADVANTAGES
Simplified and affordable web-based ERP for Real Estate.
Compatible with OS, Mac, Windows, Linux, Apple & Android.
ERP for Real Estate has seamless integration with mobile, email, SMS, Tally and IVR.
Manage Leads, Customer Data, Sales and Post Sales activity.
Clear focus on the least implementation duration.
Scalable solution to drive the growth of SME's to a large unit.
Maintain HR details – Employee records, Salary generation.
Automation process of PF, PT, TDS, ESIC deductions etc.
Get audit related output ( Service Tax recoverable, Advance expenses etc )
Steps For Real Estate Medium implementation
Sharing of import templates for gathering data to map in Real Estate Medium
Installation & configuration of Real Estate Medium product
Creation of user permission matrix in Real Estate Medium
Training session on all real Estate Medium modules
Migration of data in Real Estate Medium
Project "Go Live" documentation (System in END user's hand)
Real Estate Medium system reports approval & closing of the project.
Real Estate Medium Add Ons Module

Download Brochure / PPT
Enquiry Form