Leveraging Technology For Real Business Value
"StrategicERP develops IT solutions equipped with advanced technology that provide the competitive edge that businesses need for succeeding in the 21st-century business world. We guide businesses on their path to digital transformation and help them become technologically capable. Our cutting edge products are the brain-child of the core development team from IIT."
"We Innovate, We Build, We Empower."
We provide State of the Art Software and deliver Business Process Optimisation!
Our team comprises of industry experts and innovators who constantly develop newer and better solutions that directly cater to the present needs of the industry. Our industry veterans with domain expertise understand the needs of the industry better than anyone. The innovators in our team develop features and functionalities that are ahead of the curve and add value over and above the basics. This is how our solutions ensure effectiveness and efficiency while offering a competitive edge. Our developers understand that solutions should be user-friendly and all functionalities need to be designed from a user-centric philosophy. This has enabled us to develop solutions that have consistently solicited praise from our clients.
As an organisation that believes in leveraging technology for business value, our solutions are equipped with the best technologies that the 21st century has to offer such as AI, Cloud Technology, Business Process Automation, Biometrics Integration, Voice Command Interface, and Complete Digital Media Integration. We educate our clients to make informed decisions based on their needs and guide them through various stages of software selection and implementation. Our service to our customers spans from consultation to successful implementation.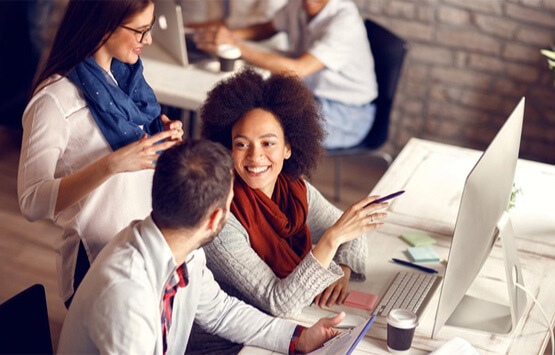 What We Do?
We guide businesses on the path to digital transformation by enabling business process automation, paperless operations, cloud technology, digital media integration, and more. We develop solutions that are meant to enhance productivity and profitability by focusing on crucial business functions as well as auxiliary ones. We improve the functioning of elements such as sound communication and coordination between all departments, business intelligence, inventory management, finance operations, and customer relationship management.
With over 16 years in the industry, we guide businesses to a destination of sustainable growth and maximised profitability.
Why Choose Us?

Free Online Demo
Get a free demo from us and find out why some of the best businesses have trusted StrategicERP as their IT Solutions partner. Our free demo will give you a first-hand view of a client's experiences when they use our software.

Converting Technophobes to Tech-friendly users
We understand that employees can sometimes be aversive to technology for fear of being able to use them well. We have a track record of successfully converting such technophobe employees of our clients to tech-friendly users who have now come to rely on our software.

Equipped with Advanced Technology
Our software is developed with advanced technology such as Artificial Intelligence (AI), Cloud Technology, Automation, Information Analytics, Complete Digital Media Integration and more. We enable businesses to leverage technology to maximum benefit.

Top-notch Service
At StrategicERP, our chief objective is to provide top-notch services to our customers. We ensure that our clients get the best possible service in every stage, right from consultation to successful implementation. We constantly stay connected with our clients to ensure an ideal experience and help attain a smooth and fruitful implementation.
200K+
ERP Users
250K
Mobile ERP Users
15+
Sales & Service Centers
200+
Sales & Service Professionals
15+
Best Tech Brand Award