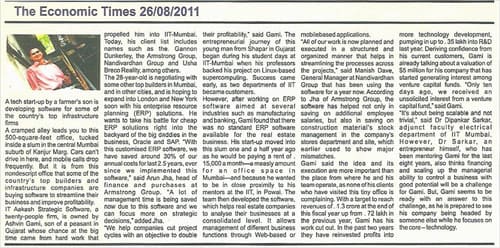 The Economic Times
A tech start-up by a farmer's son is developing software for some of the country's top infrastructure firms.
A cramped alley leads you to this 500-square-feet office, tucked inside a slum in the central Mumbai suburb of Kanjur Marg. Cars can't drive in here, and mobile calls drop frequently. But it is from this nondescript office that some of the country's top builders and infrastructure companies are buying software to streamline their business and improve profitability. IT Aakash Strategic Software, a twenty-people firm, is owned by Ashvin Gami, son of a peasant in Gujarat whose chance at the big time came from hard work that propelled him into IIT-Mumbai. Today, his client list includes names such as the Gannon Dunkerley, the Armstrong Group, Nandivardhan Group and UshaBreco Reality, among others.
The 28-year-old is negotiating with some other top builders in Mumbai, and in other cities, and is hoping to expand into London and New York soon with his enterprise resource planning (ERP) solutions. He wants to take his battle for cheap ERP solutions right into the backyard of the big daddies in the business, Oracle and SAP. "With this customized ERP software, we have saved around 30% of our annual costs for last 2.5 years, ever since we implemented this software," said Arun Jha, head of Finance and Purchases at Armstrong Group. "A lot of management time is being saved now due to this software and we can focus more on strategic decisions," added Jha.
"We help companies cut project cycles with an objective to double their profitability," said Gami. The entrepreneurial journey of this young man from Shapar in Gujarat began during his student days at IIT-Mumbai when his professors backed his project on Linux-based supercomputing. Success came early, as two departments of IIT became customers.
However, after working on ERP software aimed at several industries such as manufacturing and banking, Gami found that there was no standard ERP software available for the real estate business. His start-up moved into this slum one and a half year ago as he would be paying a rent of 15,000 a month—a measly amount for an office space in Mumbai—and because he wanted to be in close proximity to his mentors at the IIT, in Powai. The team then developed the software, which helps real estate companies to analyze their businesses at a consolidated level. It allows management of different business functions through Web-based or mobilebased applications.
"All of our work is now planned and executed in a structured and organized manner that helps in streamlining the processes across the projects," said Manish Dave, General Manager at Nandivardhan Group that has been using the software for a year now. According to Jha of Armstrong Group, the software has helped not only in saving on additional employee salaries, but also in saving on construction material's stock management in the company's stores department and site, which earlier used to show major mismatches.
Gami said the idea and its execution are more important than the place from where he and his team operate, as none of his clients who have visited this tiny office is complaining. With a target to reach revenues of 1.3 crore at the end of this fiscal year up from 72 lakh in the previous year, Gami has his work cut out. In the past two years they have reinvested profits into more technology development, pumping in up to 35 lacs into R&D last year. Deriving confidence from his current customers, Gami is already talking about a valuation of $5 million for his company that has started generating interest among venture capital funds. "Only ten days ago, we received an unsolicited interest from a venture capital fund," said Gami.
"It's about being scalable and not trivial," said DrDipankarSarkar, adjunct faculty electrical department of IIT Mumbai. However, Dr.Sarkar, an entrepreneur himself, who has been mentoring Gami for the last eight years, also thinks financing and scaling up the managerial ability to control a business with good potential will be a challenge for Gami. But, Gami seems to be ready with an answer to this challenge, as he is prepared to see his company being headed by someone else while he focuses on the core–technology.
Back to Press Release