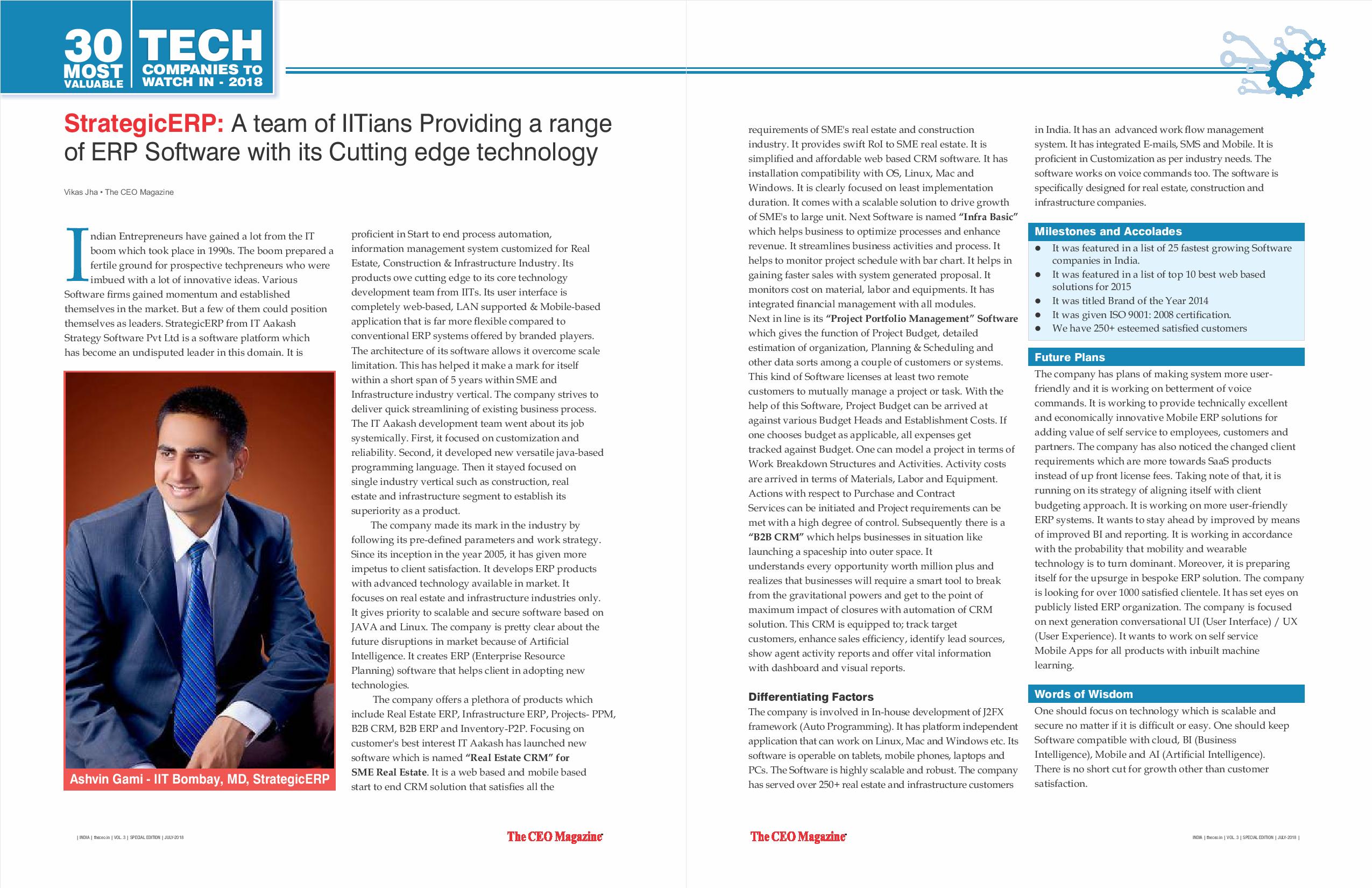 A team of IITians Providing a range of ERP Software with its Cutting edge technology
Indian Entrepreneurs have gained a lot from the IT boom which took place in the 1990s. The boom prepared a fertile ground for prospective techpreneurs who were imbued with a lot of innovative ideas. Various Software firms gained momentum and established themselves in the market. But a few of them could position themselves as leaders. StrategicERP from IT Aakash Strategic Software Pvt Ltd is a software platform which has become an undisputed leader in this domain.
It is proficient in Start to end process automation, information management system customized for Real Estate, Construction & Infrastructure Industry. Its products owe cutting edge to its core technology development team from IITs. Its user interface is completely web-based, LAN supported & Mobile-based application that is far more flexible compared to conventional ERP systems offered by branded players. The architecture of its software allows it to overcome scale limitation. This has helped it make a mark for itself within a short span of 5 years within SME and Infrastructure industry vertical. The company strives to deliver quick streamlining of existing business process. The IT Aakash development team went about its job systemically. First, it focused on customization and reliability. Second, it developed new versatile Java-based programming language. Then it stayed focused on single industry verticals such as construction, real estate and infrastructure segment to establish its superiority as a product.
The company made its mark in the industry by following its pre-defined parameters and work strategy. Since its inception in the year 2005, it has given more impetus to client satisfaction. It develops ERP products with advanced technology available in the market. It focuses on real estate and infrastructure industries only. It gives priority to scalable and secure software based on JAVA and Linux. The company is pretty clear about the future disruptions in the market because of Artificial Intelligence. It creates ERP (Enterprise Resource Planning) software that helps the client in adopting new technologies.
The company offers a plethora of products which include Real Estate ERP, Infrastructure ERP, Projects- PPM, B2B CRM, B2B ERP and Inventory-P2P. Focusing on customer's best interest IT Aakash has launched new software which is named "Real Estate CRM" for SME Real Estate. It is a web-based and mobile based start to end CRM solution that satisfies all the requirements of SME's real estate and construction industry. It provides swift RoI to SME real estate. It is a simplified and affordable web- based CRM software. It has installation compatibility with OS, Linux, Mac and Windows. It is clearly focused on least implementation duration. It comes with a scalable solution to drive the growth of SME's to the large unit. Next Software is named "Infra Basic" which helps business to optimize processes and enhance revenue. It streamlines business activities and process. It helps to monitor the project schedule with the bar chart. It helps in gaining faster sales with system generated proposal. It monitors cost on the material, labour and equipment. It has integrated "Project Portfolio Management"
Software which gives the function of Project Budget, detailed estimation of organization, Planning & Scheduling and other data sorts among a couple of customers or systems. This kind of Software licenses at least two remote customers to mutually manage a project or task. With the help of this Software, Project Budget can be arrived at against various Budget Heads and Establishment Costs. If one chooses budget as applicable, all expenses get tracked against Budget. One can model a project in terms of Work Breakdown Structures and Activities. Activity costs arrive in terms of Materials, Labor and Equipment. Actions with respect to Purchase and Contract Services can be initiated and Project requirements can be met with a high degree of control. Subsequently, there is a "B2B CRM" which helps businesses in a situation like launching a spaceship into outer space. It understands every opportunity worth million plus and realizes that businesses will require a smart tool to break from the gravitational powers and get to the point of maximum impact of closures with automation of CRM solution. This CRM is equipped to; track target customers, enhance sales efficiency, identify lead sources, show agent activity reports and offer vital information with dashboard and visual reports.
Differentiating Factors The company is involved in the In-house development of J2FX framework (Auto Programming). It has a platform-independent application that can work on Linux, Mac and Windows etc. Its software is operable on tablets, mobile phones, laptops and PCs. The Software is highly scalable and robust. The company has served over 700+ real estate and infrastructure customers in India. It has an advanced workflow management system. It has integrated E-mails, SMS and Mobile. It is proficient in Customization as per industry needs. The software works on voice commands too. The software is specifically designed for real estate, construction and infrastructure companies.
Milestones and Accolades
It was featured in a list of 25 fastest growing Software companies in India.
It was featured in a list of top 10 best web-based solutions for 2015.
It was titled Brand of the Year 2014
It was given ISO 9001: 2008 certification.
We have 700+ esteemed satisfied customers.
Future Plans
The company has plans of making system more user- friendly and it is working on the betterment of voice commands. It is working to provide technically excellent and economically innovative Mobile ERP solutions for adding the value of self-service to employees, customers and partners. The company has also noticed the changed client requirements which are more towards SaaS products instead of upfront license fees. Taking note of that, it is running on its strategy of aligning itself with client budgeting approach. It is working on more user-friendly ERP systems. It wants to stay ahead by improved by means of improved BI and reporting. It is working in accordance with the probability that mobility and wearable technology are to turn dominant. Moreover, it is preparing itself for the upsurge in bespoke ERP solution. The company is looking for over 1000 satisfied clientele. It has set eyes on publicly listed ERP organization. The company is focused on next-generation conversational UI (User Interface) / UX (User Experience). It wants to work on self-service Mobile Apps for all products with inbuilt machine learning.
Words of Wisdom
One should focus on technology which is scalable and secure no matter if it is difficult or easy. One should keep Software compatible with the cloud, BI (Business Intelligence), Mobile and AI (Artificial Intelligence) There is no shortcut for growth other than customer satisfaction.
Back to Press Release