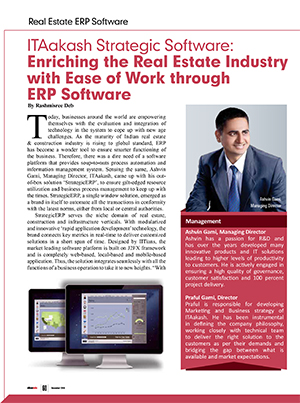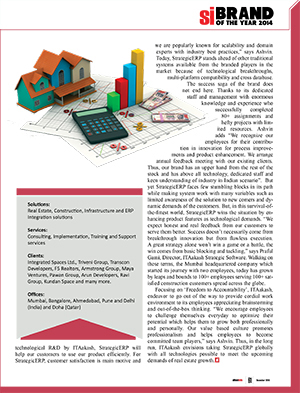 Silicon India
Awards & Recognition
"ENRICHING THE REAL ESTATE INDUSTRY WITH EASE OF WORK THROUGH ERP SOFTWARE"
Today, businesses around the world are empowering themselves with the evaluation and integration of technology in the system to cope up with new age challenges. As the maturity of Indian real estate & construction industry is rising to global standard, ERP has become a wonder tool to ensure smarter functioning of the business. Therefore, there was a dire need of a software platform that provides soup-to-nuts process automation and information management system. Sensing the same, Ashvin Gami, Managing Director, ITAakash, came up with his outof-box solution 'StrategicERP', to ensure gilt-edged resource utilization and business process management to keep up with the times. StrategicERP, a single window solution, emerged as a brand in itself to automate all the transactions in conformity with the latest norms, either from local or central authorities.
StrategicERP serves the niche domain of real estate, construction and infrastructure verticals. With modularized and innovative 'rapid application development' technology, the brand connects key metrics in real-time to deliver customized solutions in a short span of time. Designed by IITians, the market leading software platform is built on J2FX framework and is completely web-based, local-based and mobile-based application. Thus, the solution integrates seamlessly with all the functions of a business operation to take it to new heights. "With technological R&D by ITAakash, StrategicERP will help our customers to use our product efficiently. For StrategicERP, customer satisfaction is main motive and we are popularly known for scalability and domain experts with industry best practices," says Ashvin. Today, StrategicERP stands ahead of other traditional systems available from the branded players in the market because of technological breakthroughs, multi-platform compatibility and cross database. The success saga of the brand does not end here. Thanks to its dedicated staff and management with enormous knowledge and experience who successfully completed 80+ assignments and hefty projects with limited resources. Ashvin adds "We recognize our employees for their contribution in innovation for process improvements and product enhancement. We arrange annual feedback meeting with our existing clients. Thus, our brand has an upper hand from the rest of the stock and has above all technology, dedicated staff and keen understanding of industry in Indian scenario". But yet StrategicERP faces few stumbling blocks in its path while making system work with many variables such as limited awareness of the solution to new comers and dynamic demands of the customers. But, in this survival-ofthe-fittest world, StrategicERP wins the situation by enhancing product features as technological demands. "We expect honest and real feedback from our customers to serve them better. Success doesn't necessarily come from breakthrough innovation but from flawless execution. A great strategy alone won't win a game or a battle, the win comes from basic blocking and tackling," says Praful Gami, Director, ITAakash Strategic Software. Walking on these terms, the Mumbai headquartered company which started its journey with two employees, today has grown by leaps and bounds to 200+ Sales & Service Professionals serving 700+ satisfied construction customers spread across the globe.
Focusing on 'Freedom to Accountability', ITAakash, endeavor to go out of the way to provide cordial work environment to its employees appreciating brainstorming and out-of-the-box thinking. "We encourage employees to challenge themselves everyday to optimize their potential which helps them to grow both professionally and personally. Our value based culture promotes professionalism and helps employees to become committed team players," says Ashvin. Thus, in the long run, ITAakash envisions taking StrategicERP globally with all technologies possible to meet the upcoming demands of real estate growth.
Solutions:
Real Estate, Construction, Infrastructure and ERP Integration solutions
Services:
Consulting, Implementation, Training and Support services
Clients:
Integrated Spaces Ltd., Triveni Group, Transcon Developers, F5 Realtors, Armstrong Group, Maya Ventures, Pawan Group, Arun Developers, Ravi Group, Kundan Space and many more.
Offices:
Mumbai, Bangalore, Ahmedabad, Pune and Delhi (India) and Doha (Qatar)
Management
Ashvin Gami, Managing Director
Ashvin has a passion for R&D and has over the years developed many innovative products and IT solutions leading to higher levels of productivity to customers. He is actively engaged in ensuring a high quality of governance, customer satisfaction and 100 percent project delivery.
Praful Gami, Director Praful is responsible for developing Marketing and Business strategy of ITAakash. He has been instrumental in defining the company philosophy, working closely with technical team to deliver the right solution to the customers as per their demands and bridging the gap between what is available and market expectations.
Back to Press Release