ROLLOUT UPDATE OF GST IN STRATEGIC ERP
About Us
Rollout update of GST in Strategic ERP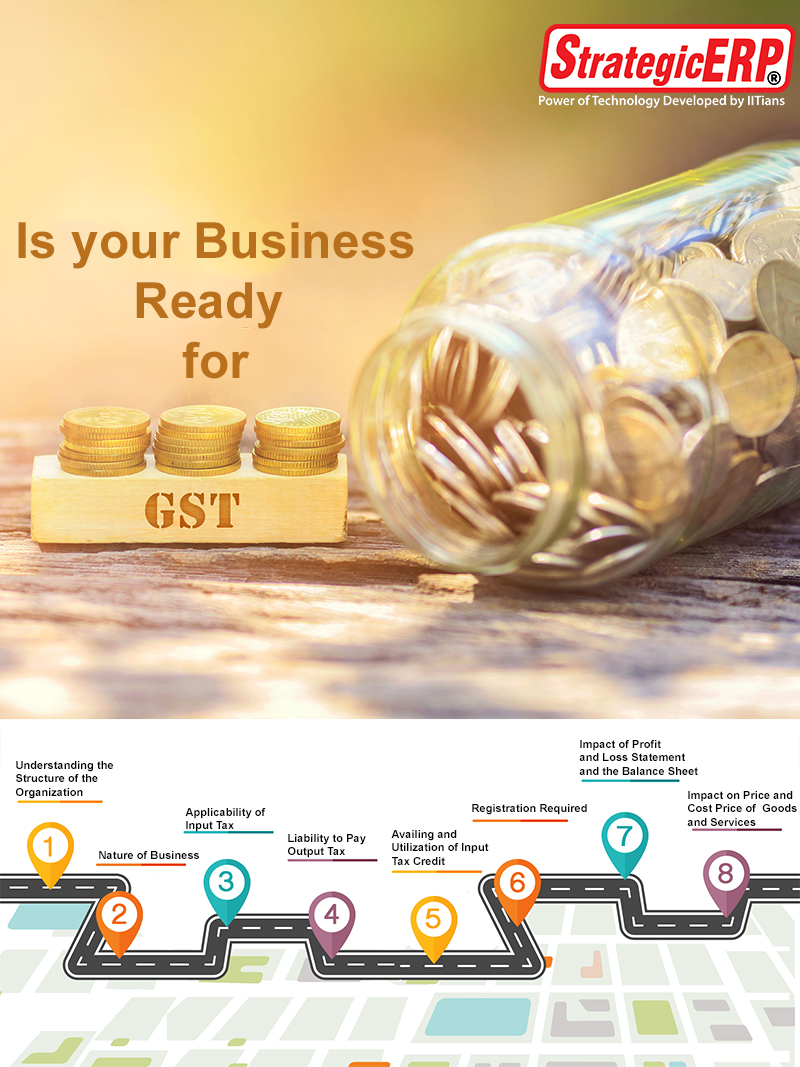 Rollout update of GST in Strategic ERP
We are glad to inform you that we have been enrolled as ASP ie Application Service Provider with NSDL. Now the GST return filing and other process will be hassle free and automated direct using StrategicERP interface.
Phase I
Register your GSTN number and invite your Suppliers and Customers to update their GST numbers:

For those of you who missed the earlier timeline to migrate your registration under the present law to GST, the window to migrate would be open from June 1st to June 15th 2017.
Check GST Migration Status
The facility to check the Migration status of any of your vendors / customers, facility to view status of Migration of Registration has been provided in the following link.
https://services.gst.gov.in/services/check-registration-status
Facility to search based on registration number, provisional ID and Permanent Account Number (PAN) is provided.
(B) Phase II:
Every Purchase Invoice in GST regime must reconcile with Sale Invoice of the supplier on GST common portal for availing Input Tax Credit. It will get updated in system by end of June'17 to mid July'17. It will directly automate process of reconciliation of invoices uploaded along with mismatch reports.
(c) Phase III:
All formats of Gst Returns like GSTR 1, GSTR2 A, GSTR 2, GSTR 3, GSTR 4, GSTR 5, GSTR 6, GSTR 7, GSTR 8, GSTR 9 etc will be available for filing from our system. Its will be available for use till July'17 end in ERP.
(D) Phase IV:
Automated GST return filing via NSDL server through StrategicERP.
Phase of update and certain pre-requisite in StrategicERP:
(A) Phase I:
We have already made Finance Module GST compliant. HSN code, tax code updation and other mapping in Finance Module are completed from our end.
(B) Phase II:
As on 1st July all customers would be able to migrate to GST. Sales Invoices, Admin exp bill book and Sales bill book will be updated with GST fields and ledger posting will be auto generated from the system.
(C) Phase III:
All customers using Statutory Management module will be able to access GST Returns and other necessary formats by end of June'17 to mid July'17.
(D) Phase IV:
All customers who have purchased GST Return sub-module in StrategicERP will be intimate about the charges of filing/uploading returns. Charges for this module will be published once NSDL will provide the upload charges on their server.
We are looking forward for your valuable co-operation in smooth transition of GST integration in StrategicERP. As and when detail requirement and formats gets finalized by NSDL it will be integrated in ERP and will be available for your use. We welcome your estimate suggestions and quarries regarding any further GST updates.
Back to Press Release