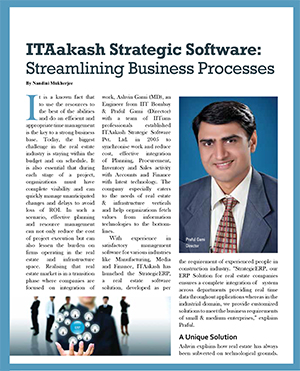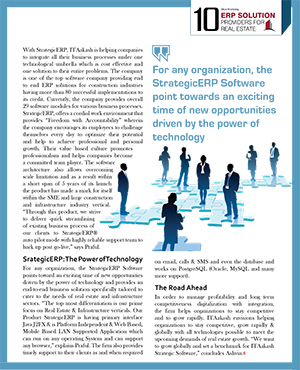 HOMES MAGAZINE
Awards & Recognition
"STREAMLINING BUSINESS PROCESSES"
It is a known fact that to use the resources to the best of the abilities and do an efficient and appropriate time management is the key to a strong business base. Today, the biggest challenge in the real estate industry is staying within the budget and on schedule. It is also essential that during each stage of a project, organizations must have complete visibility and can quickly manage unanticipated changes and delays to avoid loss of ROI. In such a scenario, effective planning and resource management can not only reduce the cost of project execution but can also lessen the burden on firms operating in the real estate and infrastructure space. Realising that real estate market is in a transition phase where companies are focused on integration of work, Ashvin Gami (MD), an Engineer from IIT Bombay & Praful Gami (Director) with a team of IITians professionals established ITAakash Strategic Software Pvt. Ltd. in 2005 to synchronise work and reduce cost, effective integration of Planning, Procurement, Inventory and Sales activity with Accounts and Finance with latest technology. The company especially caters to the needs of real estate & infrastructure verticals and help organizations fetch values from information technologies to the bottomlines.
With experience in satisfactory management software for various industries like Manufacturing, Media and Finance, ITAakash has launched the StrategicERP, a real estate software solution, developed as per the requirement of experienced people in construction industry. "StrategicERP, our ERP Solution for real estate companies ensures a complete integration of system across departments providing real time data throughout applications whereas in the industrial domain, we provide customized solutions to meet the business requirements of small & medium enterprises," explains Praful.
A Unique Solution
Ashvin explains how real estate has always been subverted on technological grounds. With StrategicERP, ITAakash is helping companies to integrate all their business processes under one technological umbrella which is cost effective and one solution to their entire problems. The company is one of the top software company providing end to end ERP solutions for construction industries having more than 80 successful implementations to its credit. Currently, the company provides overall 29 software modules for various business processes. StrategicERP, offers a cordial work environment that provides "Freedom with Accountability" wherein the company encourages its employees to challenge themselves every day to optimize their potential and help to achieve professional and personal growth. Their value based culture promotes professionalism and helps companies become a committed team player. The software architecture also allows overcoming scale limitation and as a result within a short span of 5 years of its launch the product has made a mark for itself within the SME and large construction and infrastructure industry vertical. "Through this product, we strive to deliver quick streamlining of existing business process of our clients to StrategicERP® auto pilot mode with highly reliable support team to back up post go-live," says Praful.
SrategicERP: The Power of Technology
For any organization, the StrategicERP Software points toward an exciting time of new opportunities driven by the power of technology and provides an end-to-end business solution specifically tailored to cater to the needs of real estate and infrastructure sectors. "The top most differentiation is our prime focus on Real Estate & Infrastructure verticals. Our Product StrategicERP is having primary interface Java J2FX & is Platform Independent & Web Based, Mobile Based LAN Supported Application which can run on any operating System and can support any browser," explains Praful. The firm also provides timely support to their clients as and when required on email, calls & SMS and even the database and works on PostgreSQL (Oracle, MySQL and many more support).
The Road Ahead
In order to manage profitability and long term competitiveness digitalization with integration, the firm helps organizations to stay competitive and to grow rapidly. ITAakash envisions helping organizations to stay competitive, grow rapidly & globally with all technologies possible to meet the upcoming demands of real estate growth. "We want to grow globally and set a benchmark for ITAakash Strategic Software," concludes Ashvin.
Back to Press Release