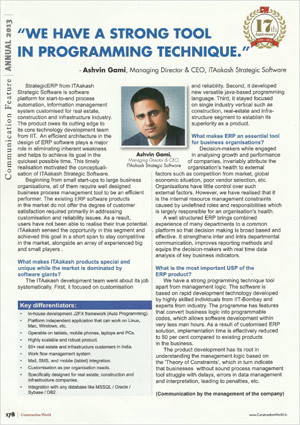 Construction World
"WE HAVE STRONG TOOL IN PROGRAMMING TECHNIQUE."
StrategicERP from ITAakash Strategic Software (P) Ltd is software platform for Start-to-end process automation, information management system customized for Real Estate, Construction & Infrastructure Industry. The product owes its cutting edge to its core technology development team from IITians.
"We help companies cut project cycles with an objective to double their profitability," says Ashvin Gami. The entrepreneurial journey of this young man from Jamnagar in Gujarat began during his student days at IIT-Bombay when his professors backed his project on Linux-based supercomputing. Success came early, as two departments of IIT became his customers.
Ashvin Gami has a bachelor's degree in Electronics and Communication from IIT Bombay, India. He has a passion for R & D and has over the years developed many innovative products and IT solutions leading to higher levels of Productivity to Customers. He is actively engaged in ensuring a high quality of governance, customer satisfaction and 100% project delivery.
An efficient architecture in design of ERP software could play a major role to unshackle any company from the inherent weakness and help achieve its goal in quickest possible time - it is this realization that motivated the conceptualization of ITAakash Strategic Software Pvt. Ltd.
Beginning from small start-ups to large business organizations, all of them need well designed business process management tool to be efficient performer perpetually.
The Existing ERP software products in market do not offer the degree of customer satisfaction required primarily in addressing customization & reliability issues. As a result, users have not been able to realize their true potential.
ITAakash could clearly sense the opportunity in this segment.
ITAakash had to achieve this goal in short span to stay competitive in market alongside array of big & small players who are in the market after years of experience software professionals.
ITAakash had to select a unique path to achieve this.
What makes ITAakash products special & unique while the market is dominated by software giants?
What makes ITAakash products special & unique while the market is dominated by software giants?
First, it focused on customization & Reliability.
Second, it developed new java based programming language which is more versatile.
Third, it stayed focused on single industry vertical i.e. construction | real-estate | infrastructure segment to establish its superiority as a product.
What makes ERP such an essential tool for Business organizations?
Decision makers while engaged in analysing growth & performance of companies, invariably attribute organization's health to external factors such as competition from market, global economic situation, poor vendor selection etc. Organizations have little control over such external factors.
However we have realised that it is the internal resource management constraints caused by undefined roles & responsibilities which is largely responsible for organization health.
For example, decision making in an organization is very much dependent on reporting by managers, whereas skill set of individual decision maker is not adequate to comprehend the nuances of entire business. As a result, quality of decision making suffers.
A well architectured ERP brings combined experience of many departments to a common platform so that decision making is broad based and effective. It strengthens inter and intra departmental communication, improves reporting methods, equips the decision makers with real time data analysis of key business indicators.
Which is the most important USP of the ERP product?
We have a strong tool in programming technique apart from management logic. The software is based on rapid development technology developed by highly skilled individuals from IIT Bombay and experts from Industry.
The program has features that converts business logic into programmable codes which allows software development within very less man hours. As a result customized ERP solution implementation time is effectively reduced to 50% compared to existing products in business. It is also based on the realization that even in the same industry vertical of Real Estate and Construction, there are large variables across organizations, hence the need for fast customization for individual organization.
The existing ERP solutions do not quite achieve this with high percentage of success.
The product development has its root in understanding of the management logic based on the Theory of Constraints, which in turn indicate that businesses without sound process management tool struggle with delays, errors in data management & interpretation, leading to penalties, etc. which do not allow them to achieve targets/Bottomline.
Key differentiators:
In house development J2FX framework (Auto Programming)
Platform independent application that can work on Linux, Mac, Windows, etc.
Operable on Tablets, mobile phones, laptops and PC's.
Highly scalable and robust product.
700+ Real Estate and Infrastructure customers in India.
Work flow Management System
Mail , SMS, and Mobile (Tablet) integration.
Customization as per organization needs.
Specifically Design for Real Estate, Construction and Infrastructure companies.
Integration with any database like MSSQL / Oracle / Sybase / DB2.
Back to Press Release