CIA World Best Construction Software of the Year 2019
About Us
CIA World Best Construction Software of the Year 2019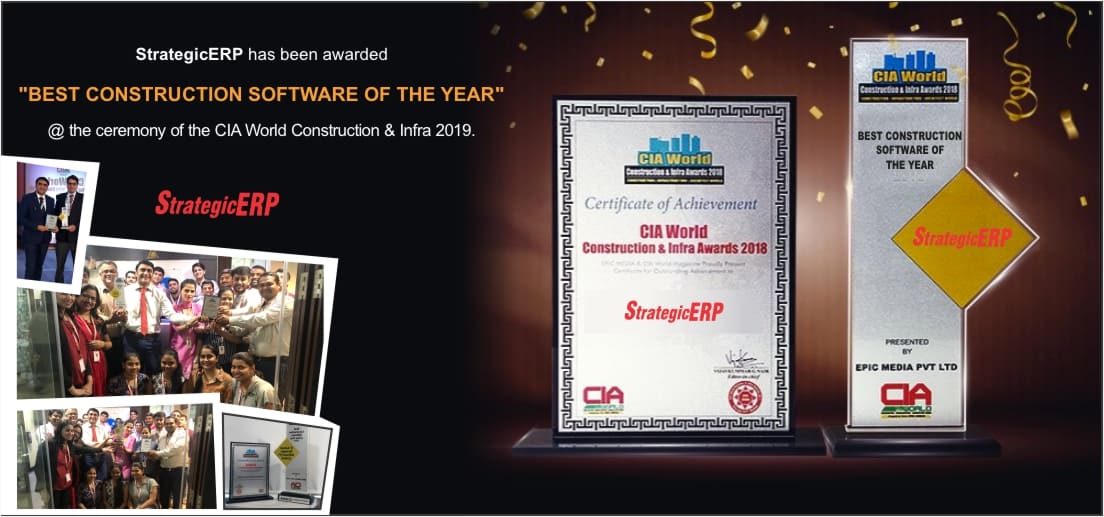 StrategicERP bags the award of "CIA World Best Construction Software of the Year 2019"
StrategicERP, The start to end ERP software solution and information management system customized for real estate, construction, and infrastructure industry, is proud to have been awarded as "Best Construction Software of the Year" at CIA World Construction & Infra 2019. Having 16+ years of presence and 700+ customers in real estate and construction market have given us the expertise to reach so far in the ERP industry.
StrategicERP has also achieved an international milestone by acquiring proficient client Hanley Properties based in Uganda. Achieving the Realty+ Proptech ERP award and CIA World Construction software award in the same month has given us the sense of motivation to touch the highest peak of the ERP industry. CIA World perceived and recognized our positive vision of making the future construction industry better by adding the environment of smooth running business functionality in the culture of the construction industry.
StrategicERP has developed construction ERP software with advanced technology like:
Artificial Intelligence
Cloud Technology
Business Intelligence and many more.
Our cutting edge technology has made it possible for our construction clients to streamline the complex business process and transform the business environment. We are deeply thankful to CIA World for awarding us as "Best Construction software of the Year 2019".
Back to Press Release