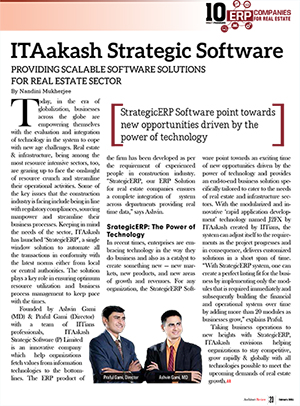 Architect Review
Awards & Recognition
"PROVIDING SCALABLE SOFTWARE SOLUTIONS FOR REAL ESTATE SECTOR"
Today, in the era of globalization, businesses across the globe are empowering themselves with the evaluation and integration of technology in the system to cope with new age challenges. Real estate & infrastructure, being among the most resource intensive sectors, too, are gearing up to face the onslaught of resource crunch and streamline their operational activities. Some of the key issues that the construction industry is facing include being in line with regulatory compliances, sourcing manpower and streamline their business processes. Keeping in mind the needs of the sector, ITAakash has launched 'StrategicERP', a single window solution to automate all the transactions in conformity with the latest norms either from local or central authorities. The solution plays a key role in ensuring optimum resource utilization and business process management to keep pace with the times.
Founded by Ashvin Gami (MD) & Praful In recent times, enterprises are embracing technology in the way they do business and also as a catalyst to create something new — new markets, new products, and new areas of growth and revenues. For any organization, the StrategicERP Software point towards an exciting time of new opportunities driven by the power of technology and provides an end-to-end business solution specifically tailored to cater to the needs of real estate and infrastructure sectors. With the modularized and innovative 'rapid application development' technology named J2FX by ITAakash created by IITians, the system can adjust itself to the requirements as the project progresses and in consequence, delivers customized solutions in a short span of time. (Director) with a team of IITians professionals, ITAakash Strategic Software (P) Limited is an innovative company which help organizations fetch values from information technologies to the bottomlines. The ERP product of the firm has been developed as per the requirement of experienced people in construction industry. "StrategicERP, our ERP Solution for real estate companies ensures a complete integration of system across departments providing real time data," says Ashvin.
SrategicERP: The Power of Technology
In recent times, enterprises are embracing technology in the way they do business and also as a catalyst to create something new — new markets, new products, and new areas of growth and revenues. For any organization, the StrategicERP Software point towards an exciting time of new opportunities driven by the power of technology and provides an end-to-end business solution specifically tailored to cater to the needs of real estate and infrastructure sectors. With the modularized and innovative 'rapid application development' technology named J2FX by ITAakash created by IITians, the system can adjust itself to the requirements as the project progresses and in consequence, delivers customized solutions in a short span of time.

"With StrategicERP system, one can create a perfect lasting fit for the business by implementing only the modules that is required immediately and subsequently building the financial and operational system over timeby adding more than 20 modules as businesses grow," explains Praful.

Taking business operations to new heights with StrategicERP, ITAakash envisions helping organizations to stay competitive, grow rapidly & globally with all technologies possible to meet the upcoming demands of real estate growth.

Back to Press Release