PropTech AI Application of the Year 2023
About Us
PropTech AI Application of the Year 2023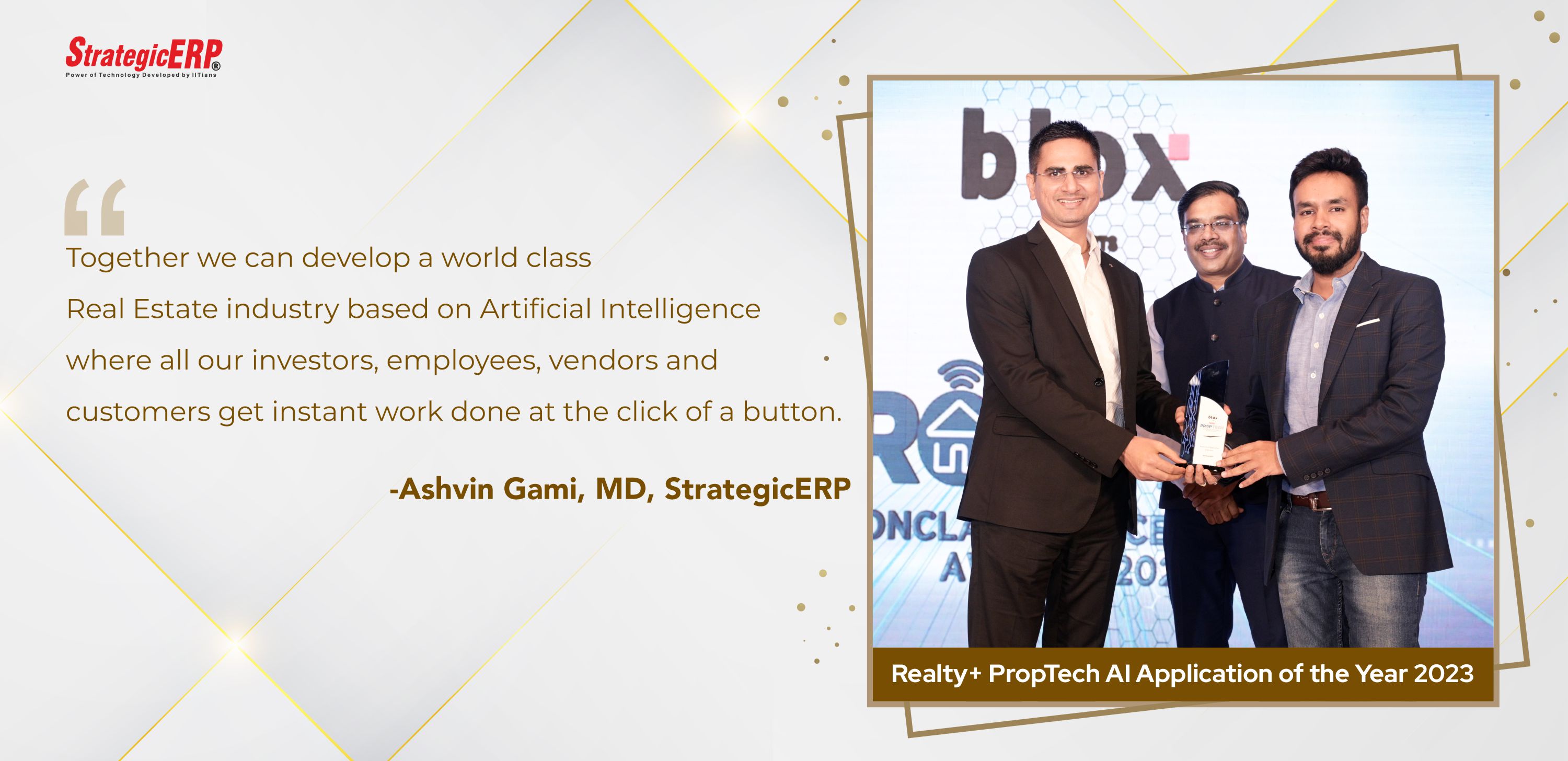 StrategicERP wins Realty+ PropTech Award for "AI Application of the Year" in 2023
24 Feb 2023: StrategicERP wins for the third consecutive year at the 5th Realty+ PropTech Conclave & Excellence Awards held on February 17, 2023 at Jio World Centre in Mumbai. Realty+, an exchange4media group publication is one of the reputed real estate magazines in India. The event witnessed an impressive line-up of business leaders from the higher echelons of the real estate sector.
The event started off with a few panel discussions on the trends, opportunities and pitfalls of PropTech for the year 2023, followed by the Red Carpet Walk of Winners, where StrategicERP won "PropTech AI Application of the Year".
Ashvin Gami, Founder & Managing Director, StrategicERP accepted the award, presented by Abhishek Das, Director at EY - Technology Transformation, IT & Digital Risk Assurance and Anuranjan Mohnot, founding MD and CEO of Lumos Alternate Investment Advisors Private Limited.
Chanakya: Artificial Intelligence for Real Estate
StrategicERP has developed its proprietary built-in artificial intelligence, Chanakya, that can be integrated through IoT with the latest devices and third-party apps to create a single ecosystem of cloud and mobile ERP solutions for any real estate business.
With it, their customers have created fully customized reports with the self-service CRM reporting tool, improved cash flow using insights generated by the system and integrated QR code-based form-filling for their customers at the project site.
Their innovation in cloud ERP has been propelled by the integration of Artificial Intelligence and Machine Learning.
Intelligent lead qualification and predictive analytics
Collection prediction and site visit prediction
Intuitive scheduling
Intuitive and intelligent finance management
Voice commands
HR voice assistant
IoT integration
Low code/ No code programming
Multiple third-party integrations
GIS management
Ashvin Gami considers AI to be a huge asset for the real estate industry and believes there is a lot of opportunity left to explore it further.
"It all started in 2008 with a single question. Can a computer write programs?
We started with cloud computing first. Let computers create our cloud applications and give us stable, secure and scalable applications with full freedom of customization.
Then we went on to mobile computing and were very happy to see clients replacing computers of the sales and engineering teams with full-fledged mobile apps.
Now we are waiting for the customers who will say, 'Let us talk to ERP and get all our work done with a voice command. Let AI handle the rest.' So, together we can develop a world class Real Estate industry based on Artificial Intelligence where all our investors, employees, vendors and customers get instant work done at the click of a button or scan of a QR code." -Ashvin Gami, MD, StrategicERP
About StrategicERP
StrategicERP was founded by Praful Gami and Ashvin Gami in the year 2005, to build robust businesses and seamless experiences for industry leaders by developing, delivering and implementing breakthrough automation solutions.
Their suite of IITian-developed ERP software has been implemented by over 700 customers across 10+ countries.