Realty+ Magazine | April 2023 issue
Praful Gami, Director, StrategicERP
About Us
Realty+ Magazine | April 2023 issue, Praful Gami, Director, StrategicERP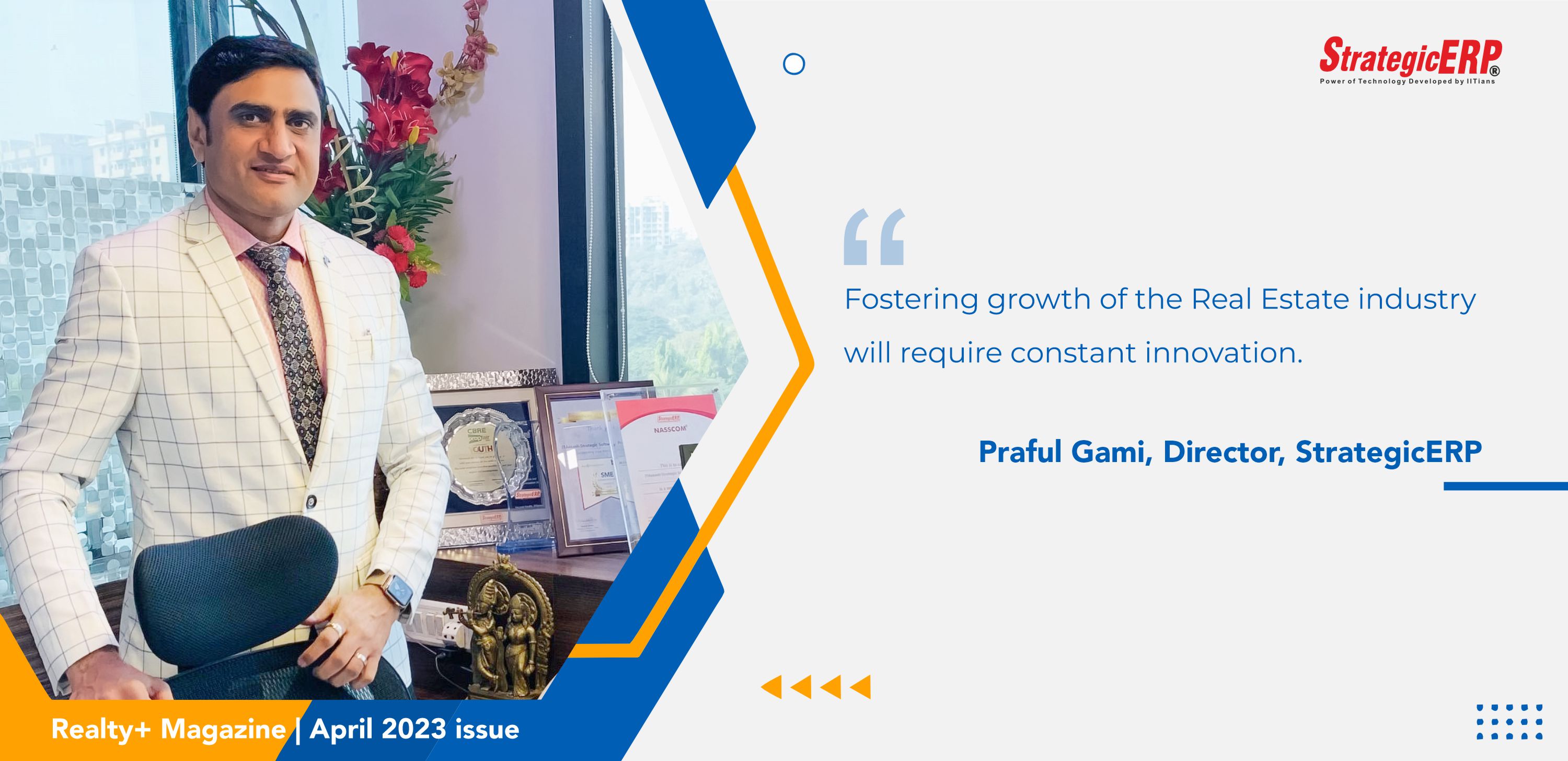 Praful Gami Featured in Realty+ Magazine's Brand Sync Segment for the April 2023 Issue
Realty+ Magazine featured Praful Gami, Director, StrategicERP in its April 2023 issue's Brand Sync segment, where he spoke about the tools and technologies that are streamlining processes for real estate businesses.
Commencing its journey in 2004, Realty+ Magazine is known for being one of the leading real estate magazines in the country. The monthly magazine is part of exchange4media group publications. It offers readers easy access to crucial industry insights, on the advancements, concerns, and market trends.
Mr. Gami spoke about their brand at length, describing how StrategicERP can be leveraged by organizations of all sizes, citing its latest features and use-cases.
Driving Business Value with StrategicERP Automation
The adoption of Real estate ERP solutions will empower businesses to re-evaluate and create data-driven sales strategies that bring results.
StrategicERP's built-in artificial intelligence, Chanakya helps generate forecast reports and provides insights about site visits, cash inflow and unit bookings. The recently upgraded dashboards provide a snapshot of pre-sales and sales activities, helping to spot trends quickly.
The Indian real estate industry has remained resilient despite global setbacks. The industry-specific features of Real Estate ERP software help overcome challenges.
Site management module prevents unnecessary delays
Finance management helps control costs
CRM module keep pace with fluctuating demands
Integration of IoT and GPS helps with the maintenance and tracking of company assets.
AI-generated reports predict labor attendance, probability of client references, and material delivery delays.
To support the current positive market sentiment, StrategicERP has added new features to their real estate cloud ERP software, to form a centralized ecosystem of people and processes.
HR chatbot
Face recognition attendance
OCR scanning for sites
Voice commands
QR code based GRN, GIN
Built-in Generative AI
The real estate industry has a significant impact on the Indian economy and a boost in the sector will positively impact the country's economic growth.
Read Praful Gami's entire interview on page 38 of the Realty+ e-magazine.