An exclusive interview by Realty+ Magazine
Mr. Ashvin Gami, Managing Director, StrategicERP
About Us
An exclusive interview by Realty+ Magazine, Ashvin Gami, Managing Director, StrategicERP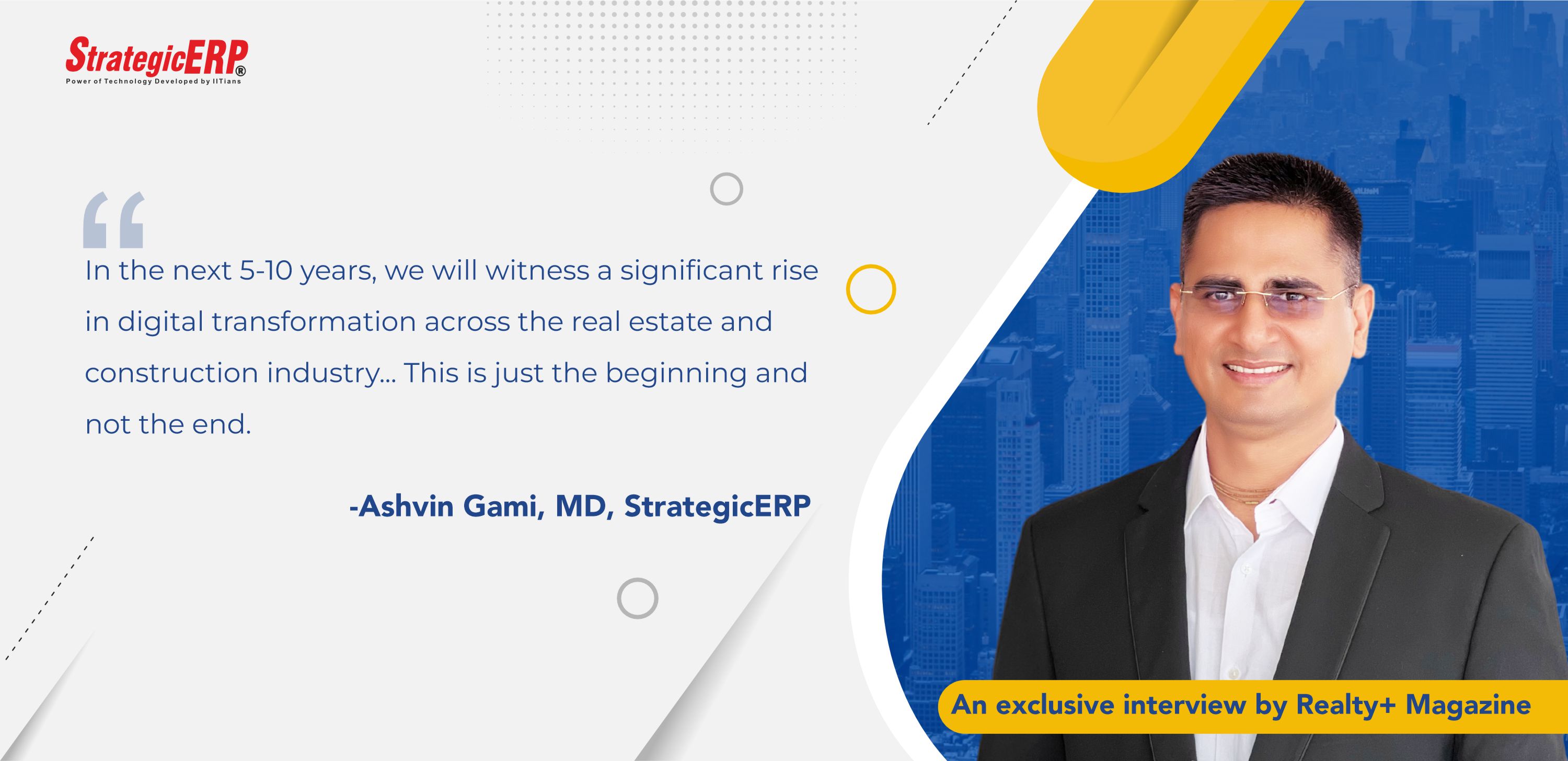 Ashvin Gami Lists 4 Technologies Businesses Need to Invest in Right Now!
In an exclusive interview with Realty+ Magazine, Ashvin Gami shares his future outlook for the Real Estate Industry and the technologies to adopt in 2023. Published on March 9 2023, the interview provided a glimpse into the innovative mind of the Founder and Managing Director of StrategicERP.
Realty+, started in the year 2004, is an exchange4media group publication and is one of the most respected real estate magazines in India. It offers industry leaders insights on the latest developments, challenges and trends.
Mr. Gami, known for his dedication towards developing innovative solutions emphasized the importance of adopting technology for real estate businesses in order to stay ahead in a competitive market. Technology such as ERP software plays a crucial role in the advancement of the industry as it transforms organizations that can adapt with changing times and keep up with fluctuating demands.
He further described the 4 technologies that industry leaders need to start investing in, in order to build an Indian real estate industry at par with global competitors.
Cloud solutions are stable, secure and scalable, making them the most preferred choice.
Mobile apps adda layer of flexibility and convenience to managing day-to-day tasks.
Predictive analytics helps detect data patterns and trends, estimating the probability of site visits, incoming payments, labor attrition and more.
Artificial Intelligence helps perform everyday tasks in a more efficient manner, with text-based inputs being replaced by voice commands.
The interview is a testament to his dedication to driving change and inspiring the industry to harness the power of ERP software integrated with the latest technologies for a brighter future.
Ashvin Gami predicts a significant rise in digital transformations across the real estate and construction industries, where businesses will readily adopt CRM and ERP software solutions. He believes this is just the beginning.
After digital transformation, he says we will witness a great change towards logical transformation (based on supervised or unsupervised logic). Ultimately, this will lead to an autonomous future of the real estate industry using AI transformation.