Ashvin Gami bestowed with the '10 Best Indian CEOs to Esteem in 2022' Award
About Us
10 Best Indian CEOs to Esteem in 2022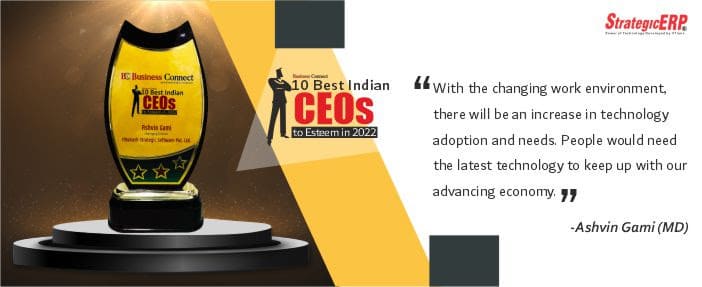 Ashvin Gami bestowed with the '10 Best Indian CEOs to Esteem in 2022' Award
March 10, 2022: Ashvin Gami, the Managing Director at StrategicERP has been recognized among the 10 Best Indian CEOs to Esteem in 2022. The technology innovator has been bestowed with the title and the trophy by Business Connect Magazine.
Business Connect is an Indian business magazine aiming to multiply its readership among senior-level executives and investors. The reputed monthly publication helps connect entrepreneurs, executive officers and vice chairmen of the country.
Ashvin Gami began his illustrious journey at the prestigious Indian Institute of Technology (IIT) at Bombay. By the year 2005, the digital transformation pioneer started developing business automation software solutions that have found more than 700 takers across 10 countries!
C-suites now are increasingly adopting ERP automation solutions as it mitigates challenges in business operations and communication by streamlining the client's workflows. It also helps bridge the gap between the top management and employees.
StrategicERP's wide applications across various sectors has found loyal clients among real estate, infrastructure, construction, manufacturing, government, energy, power and more.
Customizing StrategicERP solutions for every industry to resolve unique challenges, at a lower cost compared to the more expensive brands in the market, is what sets Ashvin Gami apart from his competitors.
Gami and his innovation warriors develop solutions from scratch to satisfy client's specific needs. They have even developed proprietary Artificial Intelligence called Chanakya, which helps run predictive analytics on company data. Probably, one of the most powerful features of StrategicERP, the AI and Machine Learning enabled reports provide valuable insights.
The actionable data reports provide the groundwork to create accurate data-driven strategies with higher chances of succeeding at your business.